RALEIGH (WTVD) —
The community response to the ABC11 Hurricane Relief Food Drive was incredible!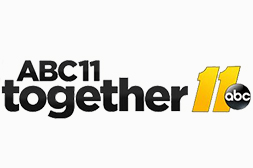 By 6 p.m., we'd collected more than 14 truckloads of food and household items, which adds up to more than 65,000 meals.
Additionally, more than $100,000 was raised. That translates to another 500,000 meals.
So far, the donations total up to more than 565,000 meals for those in need. Wow!!!
If you missed the Food Drive, you can still click here to securely donate to the Food Bank.
There are so many we want to thank, including all of the amazing people in our region who came out to help. Here are just a few to start:
There were large monetary donations from:
North Carolina Vending Association
Kuraray America Manufacturing in Fayetteville
And large donations of food and household goods from:
And also large food and goods donations from our great community partners:
Fayetteville Register of Deeds
Durham County Sheriff's Office
And churches from all over North Carolina, schools across the region, and parents, children and families. A HUGE thank you to our radio partners, who helped spread the word:
And in Fayetteville, 107.7 JAMZ and 95.7 WKML
And we would never have gotten all of this food loaded and delivered without the help of:
The Durham Fire Department
Olde Fayetteville Insurance
And loads of food bank volunteers
The Food Bank of Central & Eastern NC and the Second Harvest Food Bank of Fayetteville are helping to get the food and supplies to those in need.
WANT TO DONATE CLOTHES OR OTHER ITEMS? CALL 211
WANT TO DONATE MONEY? CLICK HERE FOR THE NORTH CAROLINA DISASTER RELIEF FUND DONATIONS WEBSITE
Report a Typo
(Copyright ©2016 WTVD-TV. All Rights Reserved.)