RALEIGH (WTVD) —
We're asking you to donate food today to help Hurricane Matthew victims.
WANT TO HELP? CLICK HERE TO SECURELY DONATE OR FIND OUT MORE OR CALL TOLL FREE (844) 346-9886
You can take part in our Hurricane Relief Food Drive at all three ABC11 newsrooms, at 411 Liberty St., in Durham, 319 Fayetteville St., Suite 107 in Raleigh, and 201 Hay St., Suite 101B in Fayetteville.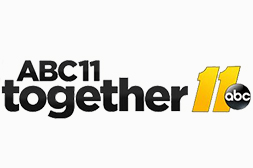 The Food Bank of Central & Eastern NC and the Second Harvest Food Bank of Fayetteville are helping get food to those in need.
You can drop off donations between 6 a.m. and 7 p.m. Or, you can donate directly to the Food Bank online through its virtual food drive or drop off food at any of its six branch locations.
Branch locations:
In Durham: 2700 Angier Ave., Suite A

In Raleigh: 3808 Tarheel Drive

In Southern Pines: 195 Sandy Ave.

In Greenville: 1712 Union St.

In New Bern: 205 South Glenburnie Rd

In Wilmington: 1314 Marstellar St.
In Fayetteville, the Second Harvest Food Bank of Southeast NC is also in need of donations, they are located at 406 Deep Creek Road.
The easiest food to donate is food that needs no preparation, such as crackers, granola bars, fruit cups or any lunch box items. Cleaning supplies and baby items such as diapers, baby wipes and formula are also in great need.
CLICK HERE TO HELP SECOND HARVEST OR FIND OUT MORE
The Second Harvest Food Bank of Southeast NC is located at 406 Deep Creek Rd in Fayetteville.
WANT TO DONATE CLOTHES OR OTHER ITEMS? CALL 211
WANT TO DONATE MONEY? CLICK HERE FOR THE NORTH CAROLINA DISASTER RELIEF FUND DONATIONS WEBSITE
Report a Typo
(Copyright ©2016 WTVD-TV. All Rights Reserved.)