The center of high pressure has moved from the eastern Great Lakes to New England. This high continues to move southward with dry, stable air. This ridge of high pressure will continue to bring dry, stable air over central North Carolina into tomorrow morning. This will help bring another cool night tonight and another nice day tomorrow. Some clouds will start to show up tomorrow as the wind flow turns a bit more out of the east. This will tap some shallow moisture off the Atlantic supporting a partly sunny sky tomorrow afternoon and a partly cloudy sky tomorrow night.
A strong upper-level disturbance swinging through the northern Rockies this evening will swing east and force a cold front from Minnesota into the central Plains this evening into the Great Lakes and the Ohio and Tennessee valleys by Thursday afternoon.
This front will move through central North Carolina Thursday night with just a few clouds. Current model output still shows very low moisture levels across the region ahead of and along the front, so we see no chance for rain.
In the wake of Thursday night's front, another surge of dry, stable and cooler air will follow, and afternoon readings on Friday should still run about 7-10 degrees cooler than Thursday's mid- to upper 70s.
This cool down will not last long, and readings will be back close to
70 on Saturday and in the lower 70s across the viewing area on Sunday.
High pressure building in from the north will be more rounded and therefore the wind flow moving into the Carolinas will have a stronger ocean component compared to what we will see the next couple of days.
This flow more off the ocean should bring some shallow moisture leading to some clouds on Saturday and Sunday.
A series of weak upper-level disturbances will work across the western and north-central United States this weekend into early next week causing an upper-level ridge to build over the eastern U.S. during Sunday and early next week. This building upper-level ridge will support warm and mostly dry weather for central North Carolina for Sunday and through early next week. Readings could run 5-8 degrees above normal for early next week.
Have a great evening!
Chris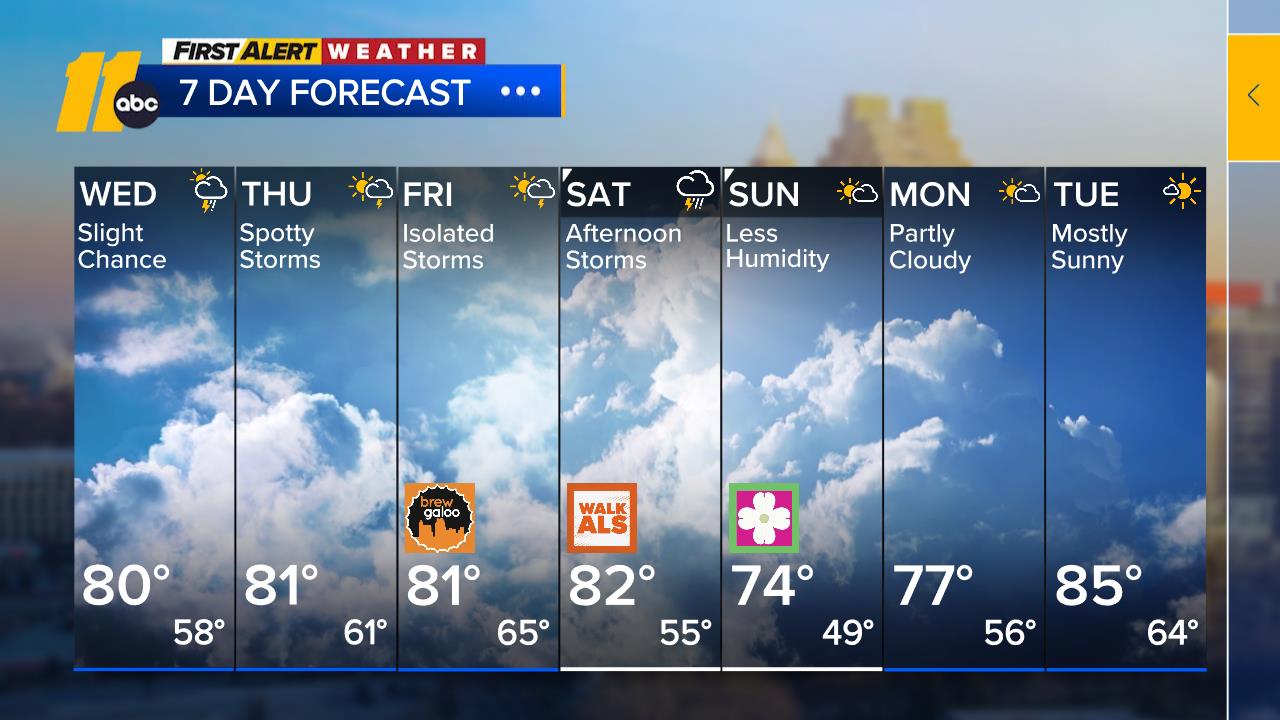 (Copyright ©2016 WTVD-TV. All Rights Reserved.)